Well, it really isn't little, but I think tag and automatically think little....lol
I made this tag for a challenge at SCS for a guest DT position with MFT. I must be honest and say that I feel my tags are never quite worthy. I think all crafters think this way at some point, so I sucked it up and tried! I even think I pulled it off! My friend LJ has been quite the enabler where MFT is concerned. I am in love with the whole Pure Innocence line, not to mention Fred Bear! Who doesn't love a bear who loves s'mores and brings flowers?? I have yet to try their dies, but I look and sigh every month when I get their newsletter.....aaahhhhh.....sigh.... Just think, I could become the enabler if I am chosen....lol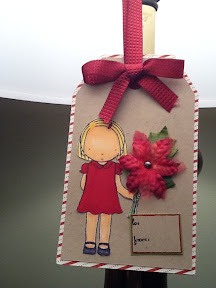 I used card stock, kraft and candy cane stripe, by a*muse, ribbon by SU!, a dollar stamp from Mike's (the to/from), and Lily of the Valley from the Pure Innocence line at My Favorite Things. She's colored with my Copic's; and I replaced her lily of the valley with a poinsettia I layered with Prima's. The flower looks a bit blurry, but the top layer is tulle! The back of the tag is all candy cane stripe. I used my Cricut to cut out all three layers of the tag!
I really like who this sweet tag turned out! What do you think?
I have a super busy weekend ahead, so probably won't post again until the beginning of the week!
Thanks for stopping by!
HUGGZ,
April
This has also been entered in the current challenge at
Joan's Gardens
!
- Posted using BlogPress from my iPad