Earlier this week you got a peek at my craft space. It was a mess (still is, so no more pictures), but in those pictures were hints of two card sets I am sending to my swapping pal, Sam. I Also did some creative cropping so that a mystery wasn't revealed too soon.....utoh....
Sam is hostessing a Men's Cards Swap and I took general spot and a birthday one. I will be honest and tell you, as many probably know, I rarely put a sentiment on the outside of my card. And, if I do, it is pretty generic. This holds true with these cards too. I hope Sam and the rest of the swappers don't mind!
I used some twine, from
The Twinery
, for a purely male embellishment. The card base is kraft from a*muse. The digital image is from
Mo's Digital Pencil
(one of my most favorite immies evah); the sentiment is from SU. This is intended for my general card, but could be a birthday one too!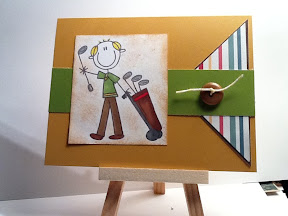 The card base is a*muse and the DP is CTMH. The button is vintage~ an estate sale find! The image (obviously) is from
Bugaboo
!
Thanks for stopping by!
HUGGZ,
April
- Posted using BlogPress from my iPad