Can you believe that it is the 28th of the month already? In just a couple of days it will be December...ugh! That means lots of baking is in my near future! Great for my neighbors, not so much for my waistline!
It is probably a good thing that I have some of my Christmas cards already made!
This is my prototype that I wasn't 100% pleased with: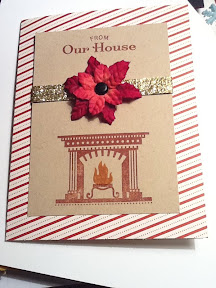 This is my final version:
I changed the color of the fireplace and double stamped the fire. The flowers are by Prima (a great find thanks to Kelly). The card stock is from a*muse. The ink is CTMH and the ribbon is a dollar find at Mike's.
Now, you are probably wondering why I am sharing this with you.....because today is the day when the Calendar Girls show off their version of the month's challenge. That challenge was to display a Christmas card! Woot woot...easy peasy!
Now, for the not so great part of the challenge.....we are all supposed to show off our crafting space. I must be honest and tell you that while I have a lot of space, I have terrible lighting. I am hoping that Santa brings me a new OttLite in my stocking! (I did decide I would show you my mess, since I showed you my scary pajama outfit a week or so ago!). You will notice that my cards are skewed across my desk, my ATG and stamp blocks haven't made it back to their storage bin, and I am about to send some swaps out!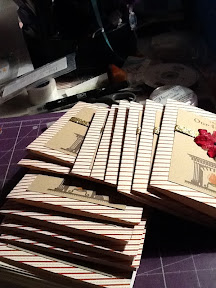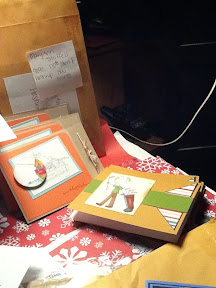 I hope you will leave me some love, and then go leave some for the rest of the Calendar Girls (check my side bar)!!
Thanks for stopping by!
HUGGZ,
April
- Posted using BlogPress from my iPad