I so admire crafters that know what they are doing. The ones that can pull of a project effortlessly! I cannot always accomplish that!
I can cook like a dream, or so many friends and relatives say, so a week or so ago got it in my head to enter a
challenge over at Peachy Keen Stamps
for a recipe card!
I own one 'face' stamp and ever since being gifted with it have been petrified to ink it up. Well, I had a lot of time on my hands this week (many of you should laugh about this since I have cooked my entire dinner sans the turkeys already), so I gave using it a try.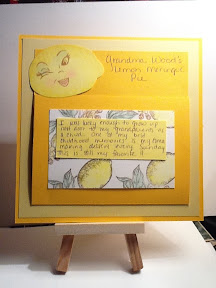 While I am ambivalent about it, I did give it the old college try, so to speak! The recipe is inside; the yellow folds open. No real embellishments since it will be a well used card! The designer paper is homemade using a million-year old cheapy stamp and chalks...lol
Thanks for stopping by!
HUGGZ,
April
- Posted using BlogPress from my iPad